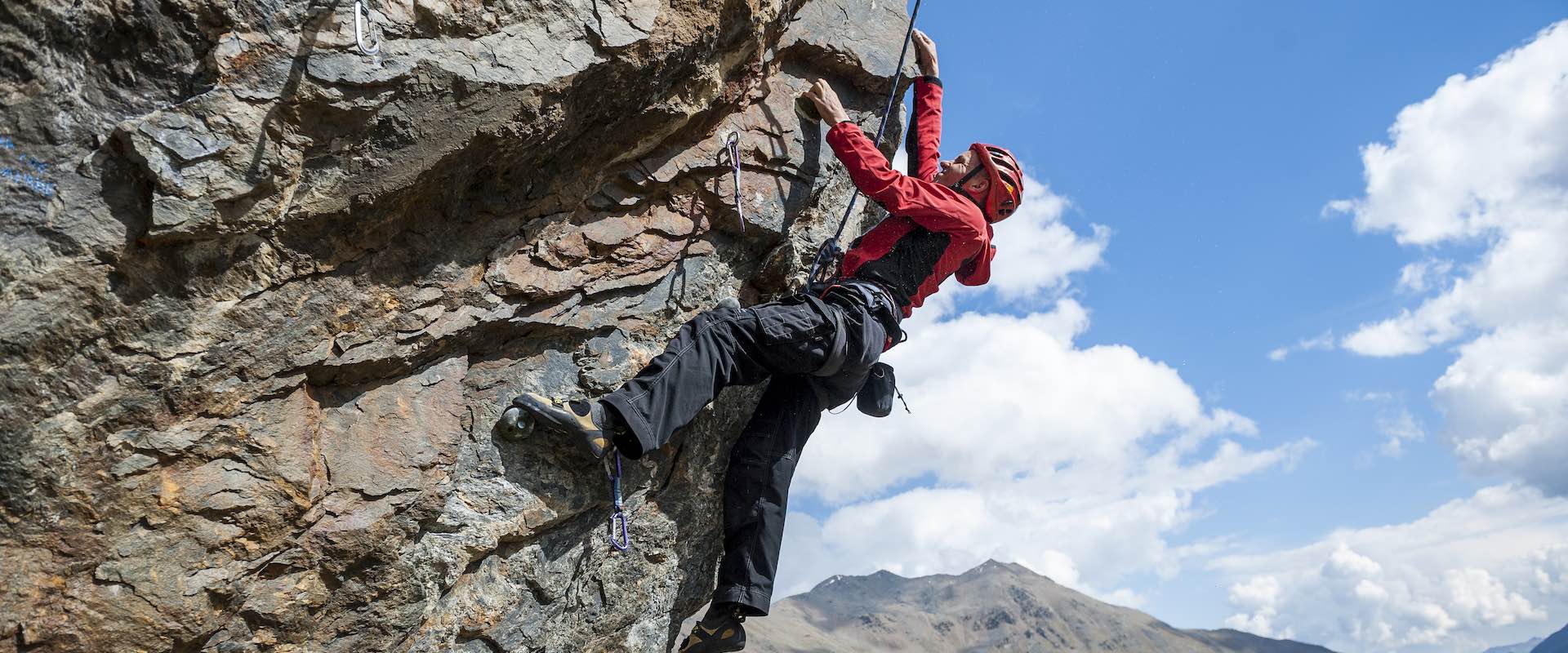 EXCURSIONS
Walks and hiking routes of a variety of durations and levels of difficulty to admire the countryside, enjoy some fresh air, and get some healthy exercise. From the valley floor routes to the highest peaks, with the chance of refreshment at dairy huts and mountain huts. And why not try the adventure of sleeping in an Alpine shelter… an unforgettable experience for young and old.
HIGH ALTITUDE
For those who wish to walk on glaciers and climb the highest peaks with ice axes and crampons, there are many routes across the mountain ranges surrounding Val di Sole: the Ortles-Cevedale and the Adamello-Presanella. Strong emotions for your picture albums!
VIE FERRATE
An extra thrill compared to simple excursions is provided by the equipped paths that cross the vertical cliffs of the Brenta Dolomites, affording breath-taking views.
CLIMBING
Numerous rock faces in this valley are dedicated to rock climbing: San Giacomo, Malè, Folgarida; and the same in Val di Peio. Various levels of difficulty keep climbers of all levels happy!
CANYONING
A fun sport, in contact with the wilderness, abseiling, sliding and jumping along rivers and ravines carved out of the rock.
RAFTING
Along the navigable 28 Km of the Noce river, you can choose between the adrenaline of the rapids and the equally intense enjoyment of less impetuous sections.
SPRINGS
Val di Rabbi is home to springs that have been enjoyed since ancient times, renowned for their therapeutic effects in curing rheumatic, circulation, digestive, anaemia and lymphatic disorders, as well as respiratory pathologies. For a holiday in search of overall well-being of mind and body.
SWIMMING POOL
The municipal swimming pool of Malè, recently refurbished, is an indoor facility, equipped with a regulatory semi-Olympic swimming pool (25×15 m) with 6 lanes, 120 to 180 cm deep, temperature 28°C, a relaxation pool with water massage jets at lumbar and cervical positions, a swimming pool for kids with a depth of 30 cm and temperature of 30 °C, so they can approach the water for the first time in the utmost safety and tranquillity. It also has a sun tanning garden open in the summer time. There are furnished locker rooms and a parking area. The Monclassico Bio-Lake is a special experience. It is a natural open-air swimming pool, safe for swimming and eco-friendly, where water plants replace the use of chlorine in purifying the water. It has a play area and refreshment stand.
CYCLING
Val di Sole offers 35 Km of cycling tracks suitable for all skill levels, in a unique natural setting, and numerous mountain biking routes. In this area, it is possible to travel some of the sections of the Dolomiti Brenta Bike, the fascinating tour that allows you to experience the Brenta Dolomites from the saddle of your bicycle.
For all of the more technical activities, for those who wish to try out a mountain sport for the first time, or improve their skills, or simply dare to try something more, our facility is in close contact and collaboration with the Alpine Mountain Guides of the "Val di Sole" Mountaineering and Ski Mountaineering School.