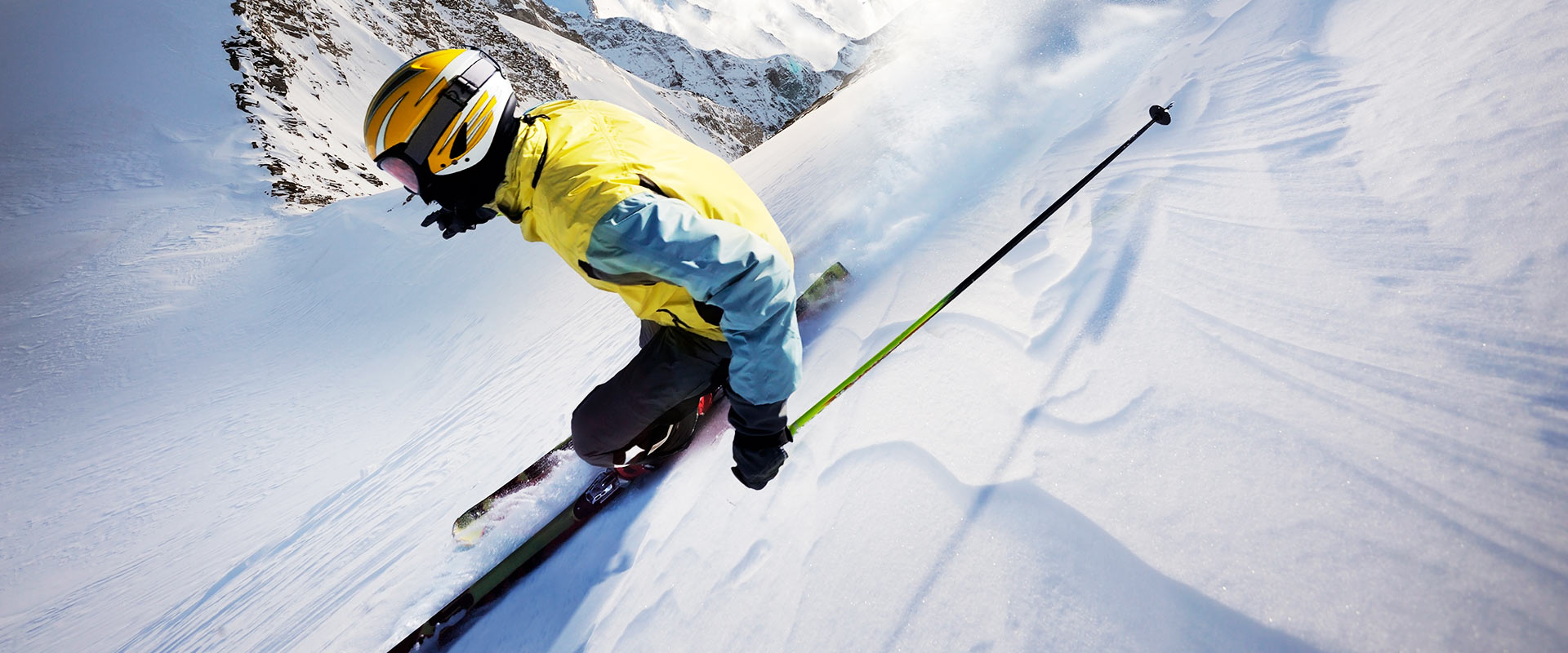 SKI MOUNTAINEERING
An immensely satisfying activity, where the effort of climbing uphill with seal skins is associated with the pleasure of splendid descents on pristine snow-covered slopes. There are numerous routes suitable for this sport, among the most famous in Val di Rabbi and the entire Monte Sole area, where the Skialp ski mountaineering meeting is held in February.
SKATING
The large and welcoming ice stadium in Malè will reward you with many happy hours of skating. The platform with artificial cooling is 60×30 metres. The stadium has a grandstand with around 400 seats, and numerous services: bar, locker rooms, showers, and skate rental and sharpening. Here, beginners' courses are held in speed skating, figure skating, and ice hockey.
SNOWSHOE EXCURSIONS
An activity that is suitable for everyone, it requires no special abilities. It uses ancient instruments (snowshoes) that make it possible to sink less into the snow, thus making it easier to walk. When out walking in the woods, it is easy to meet the creatures who live there. Numerous excursions at various levels of difficulty and length are organised throughout Val di Sole.
ICE CLIMBING
Val di Rabbi is home to one of the most beautiful and spectacular places for this activity, Valle di Valorz, which has a high concentration of waterfalls for various levels of difficulty.
CROSS-COUNTRY SKIING
For cross-country skiing enthusiasts, there are numerous opportunities to train and have fun. In fact, Val di Sole offers 55 Km of prepared ring routes, as well as ski waxing facilities, ski rental, locker rooms, refreshment stops, skiing schools, and specialised instructors. Cross-country centres are spread out around Passo del Tonale, Vermiglio, Cogolo, Ossana, Mezzana, Commezzadura, and Rabbi.
SKIING
For skiing enthusiasts, Val di Sole offers a respectable skiing district, with a total of 380 Km of slopes, including the stations of Folgarida-Marilleva, Madonna di Campiglio, Passo del Tonale and Peio.
SWIMMING POOL
The municipal indoor swimming pool of Malè, recently refurbished, is equipped with: a regulatory semi-Olympic swimming pool (25×15 m) with 6 lanes, 120 to 180 cm deep, temperature 28°C, a relaxation pool with water massage jets at lumbar and cervical positions, a swimming pool for kids with a depth of 30 cm and temperature of 30 °C, so they can approach the water for the first time in the utmost safety and tranquillity. It also has a sun tanning garden open in the summer time. There are furnished locker rooms and a parking area.
OUTINGS BY HORSE-DRAWN SLEIGH
Even the snow is no obstacle for exciting moments on horseback or in a horse-drawn sleigh! The closest horse-riding centre is in Pellizzano.
INDOOR CLIMBING
This recently built indoor rock climbing facility is made up of a 15 metre high wall, 20 metres wide, with ten stops and 17 routes, difficulties ranging from 5 b to 7c. Pala Climb is located in the Palazzetto Sportivo in Mezzana, in Marilleva 900, and is equipped with locker rooms and showers.
DOG SLEDDING
Dog sledding is an activity in which the real protagonists are man's best friends, dogs. Dog sledding is a sport where a sled is pulled by a team of dogs, which gives us the exciting feeling of running free on a sled in the snow. The nearest dog sledding centre is on Passo del Tonale.
For all of the more technical activities, for those who wish to try out a mountain sport for the first time, or improve their skills, or simply dare to try something more, our facility is in close contact and collaboration with the Alpine Mountain Guides of the "Val di Sole" Mountaineering and Ski Mountaineering School.